5 Best Places to Find Free & Safe No Copyright Music for Your Videos (Updated: 2023)
With the creator economy currently growing at a rapid speed the need for no copyright music for both creators and advertisers has never been bigger. There are many good places out there where you can find no copyright music for your videos – but most of these sites are paid which means you will need to pay for a subscription or pay a one-time fee to be able to use their music. However not all content creators can afford or wants to pay for music to use in their videos.
Just like it's possible to find free to download royalty-free images and copyright free video assets on websites like Unsplash.com and Pexels.com, then it's also very possible to find good no copyright music, which you do not have to pay for – you just need to know where this music can be found and what to be aware of. Therefore, we have made a full guide taking you through the 5 best places to find FREE & SAFE no copyright music for your videos in 2023.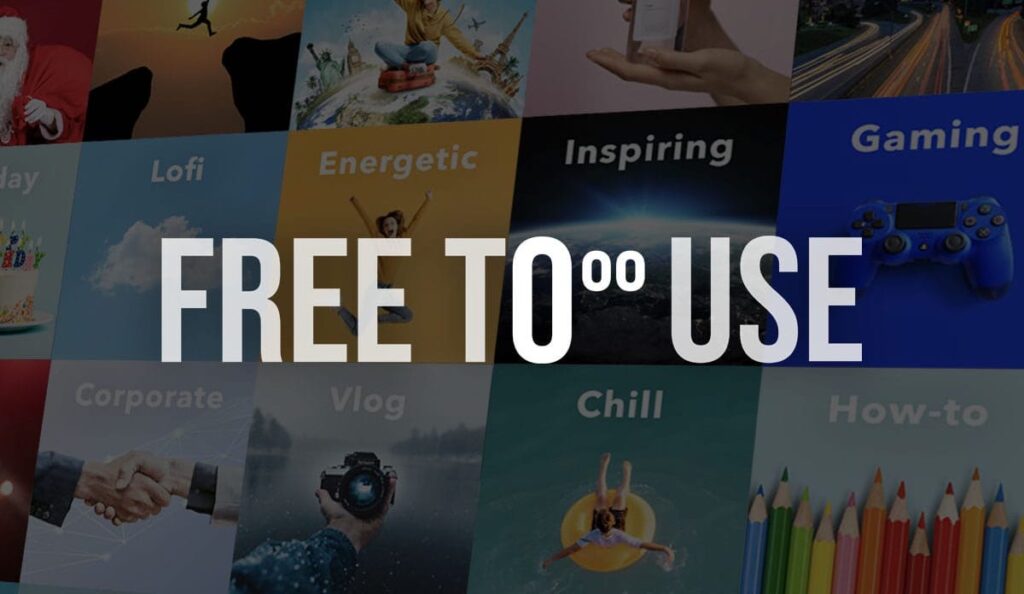 Free To Use is one of the fastest-growing platforms with royalty-free music today. The platform was launched in March 2023 and already has thousands of daily users and there is an excellent reason for that. They have really high-quality music that's categorized very well to fit with the UI/UX which is tailored for both small and large video creators on YouTube, Tiktok, Instagram, and others – this makes it very easy for creators to navigate around the platform and find the perfect background music for their videos.

However, the biggest contributor to the popularity of Free To Use is that they allow everyone to download unlimited music completely for free with one single click – you don't even need to register for an account to be able to download their music. This combined with the great user experience is what sets Free To Use apart from any other free music sites out there.
The only requirement to use the music completely for free is that you must attribute the artist by copying and pasting the text from the little box that pops up after downloading each track into your video description.
One of our favorite features on the Free To Use platform is the related tracks section below each track. So, if you find a track you like then you just need to click on it and go to it's track page to find similar tracks – these will be displayed below the main track and sorted by most similar by default.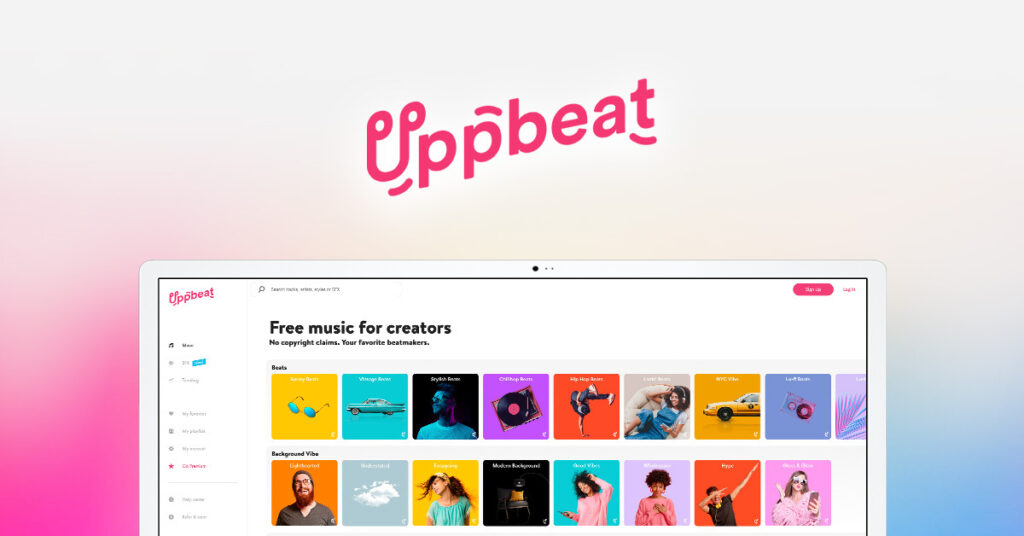 Uppbeat.io is a relatively new website/platform with a lot of great copyright free music for creators. The platform has been created in 2021 by the people who are also behind the paid music licensing company named Music Vine. The fact that this platform has a solid company behind it clearly makes it more trustworthy which is very important as you definitely don't want to find out that the music you've used is actually not copyright free after publishing your video/project.
There is however a catch to this platform – you must create an account, and the free plan only lets you access 30% of tracks on the platform and you're only allowed to download 3 music tracks for free each month. In our opinion, it does feel like they are trying a bit too hard to get people to upgrade to their paid plan… But with that said, Uppbeat is a great platform that is very easy to navigate, and it has a modern design. The quality of music is good enough to be played at a low volume as background music in a video, but it's simply not high enough quality to be played as the main audio within your video/project.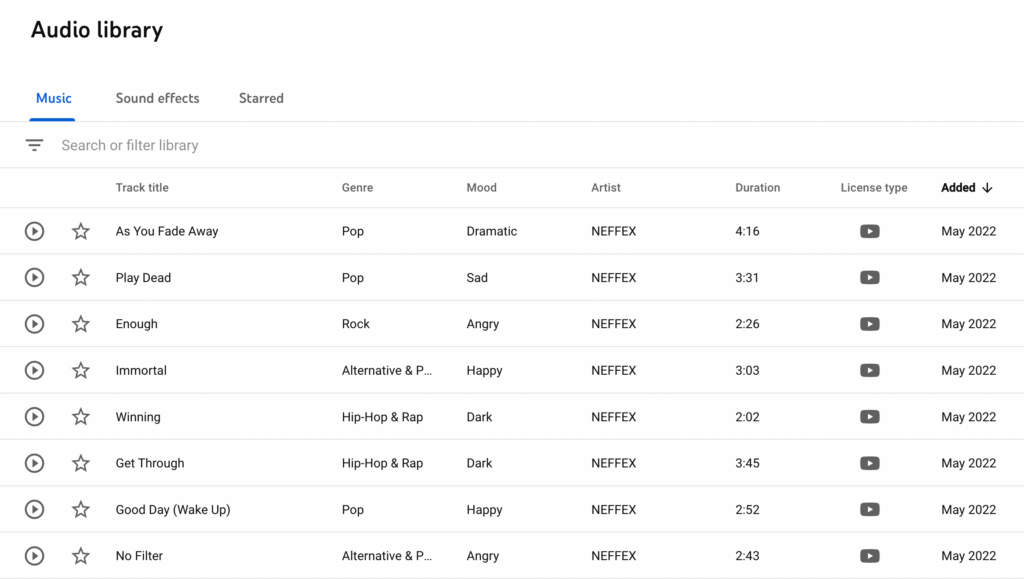 If you have your own YouTube channel, then it is worth knowing that YouTube has made its own Audio Library of no copyright music with thousands of music tracks that can be used for free in your monetized videos. In addition, the library also contains all kinds of different sound effects which can be used in your videos as well. The library is currently only accessible from within the YouTube Creator Studio which means that you'll need to have a YouTube channel set up in order to access and download the music.
We really like how YouTube has made it very easy to both download and filter the music tracks and sound effects by genre, mood, and/or category. However, it does feel a bit like many of the tracks haven't been categorized properly, so you may end up spending quite a lot of time finding the perfect track for your video. The music tracks within the Audio Library are either released under YouTube's own "YouTube Audio Library License" which requires no attribution or under the famous "Creative Commons License" which does require attribution.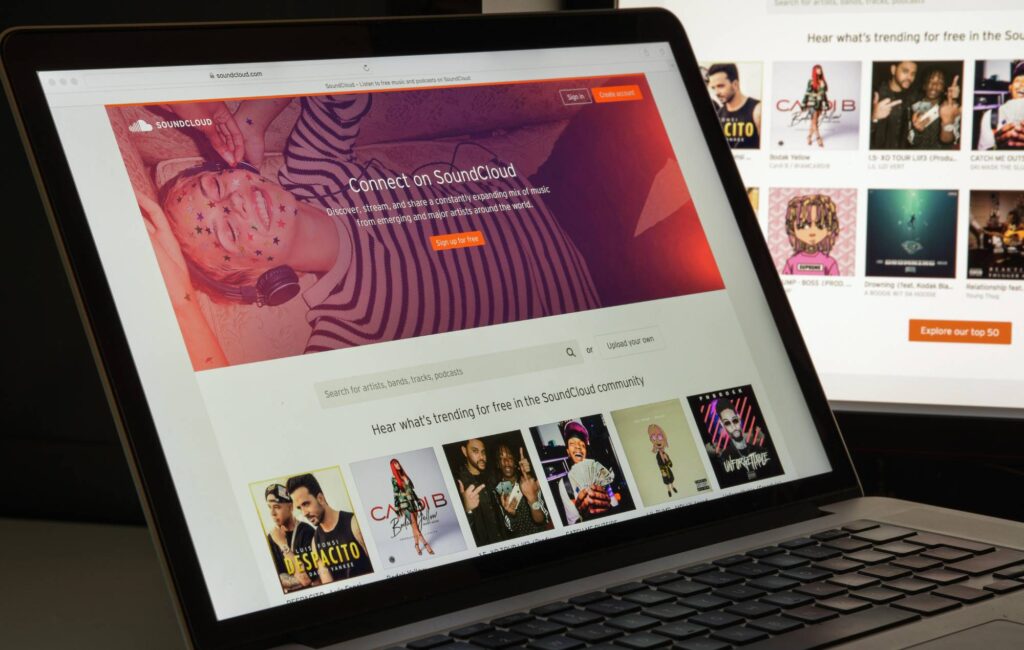 For those who do not know about the music streaming platform named SoundCloud, then we can tell you that it was at some point around the years 2010 to 2015 the largest music streaming platform / main place for music artists to post their music. However, sadly, they have fallen a bit behind in recent years with new platforms such as Spotify and Apple Music taking over. Some smaller and many upcoming music artists do however still post their music on the platform. SoundCloud has this great feature where music artists can post their music under a 'Creative Commons License' (just like many of the tracks mentioned above from YouTube Audio Library), and then everyone can filter the tracks on SoundCloud by the type of license. So even though not many people know about this, then it is actually possible to go onto SoundCloud.com and search for "happy music", and then filter by license in the left-hand sidebar.
One huge disadvantage is that there is no company or brand behind this music that can guarantee and/or verify that it is owned by the artist who has posted it to SoundCloud and that it is royalty-free and will remain free to use. So, we do advise you to be very careful and do your own research before using any music from SoundCloud.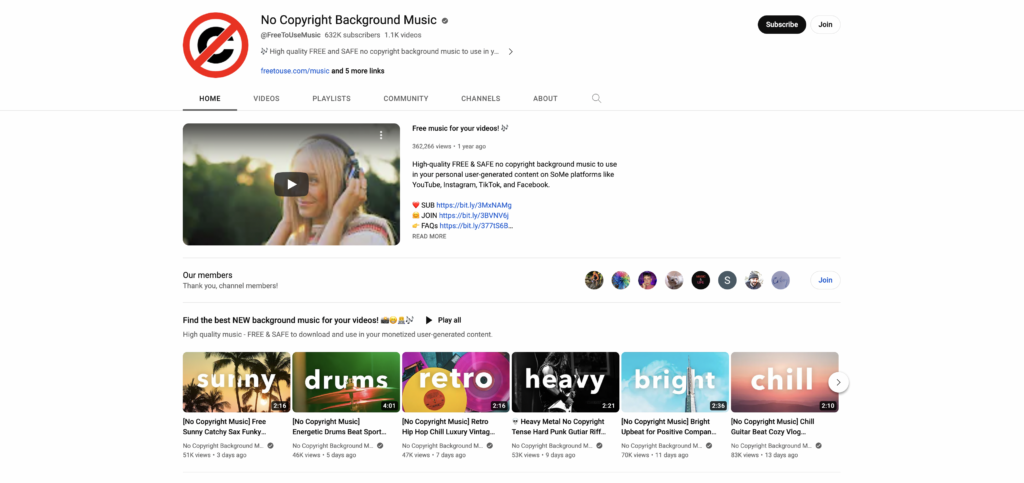 5. No Copyright Background Music
No Copyright Background Music is currently one of the largest music channels on YouTube with over half a million subscribers. They have promoted, sorted, and categorized more than one thousand high-quality music tracks which are 100% FREE to download and SAFE to use in your monetized user-generated content on various media platforms such as YouTube, Facebook, Instagram, Twitch, and TikTok.
The reason why this YouTube channel is one of our absolute favorite places to find free no copyright music is because of how easy it is to both find, download, and use the music for your own videos, and most importantly – all their music is proper high-quality production music.
Firstly, all their music tracks are sorted and categorized very well with descriptive video titles and great thumbnails, so you can easily find the perfect music for your videos.
Secondly, there is a free download link in the description underneath each of their videos, so it is super easy to download the music onto your computer – you don't even have to create an account, log in, or sign up for anything.
Thirdly, the only requirement to be able to use the music completely free is that you need to attribute the artist by writing the track title and artist name somewhere in the description of your video.